One of the world's biggest stars returns to Denmark in August 2022, when Ed Sheeran as part of his upcoming '+ - = ÷ x Tour' performs a concert in Øresundsparken. Ticket sales opens on Saturday 25th of September 2021 at 12.00.
Ed Sheeran can now announce his upcoming '+ - = ÷ x Tour' (pronounced 'The Mathematics Tour'). The tour kicks off in April 2022 and brings him to Denmark, Sweden and Finland, to the UK and Ireland and to seven Central European countries. In June and July 2022, three concerts have been announced at Wembley Stadium in London.
Ed's upcoming '+ - = ÷ x Tour' will see Ed's return to the live stage for the first time since the record-breaking 'Divide Tour', which took place in 2017-2019 and which ended up being music history's most-attended and highest-grossing tour ever. On the 2022 tour, fans will get to see Ed perform an array of tracks off his upcoming album, '=', live for the first time, and they will also experience a new production set-up with Ed's staging in the round, surrounded by the crowd.
Ed Sheeran in Denmark
Ed Sheeran has a very special place in the musical heart of many Danes. Before anyone knew who he was, he was on stage in 2011 at the Copenhagen venue Bremen, where he performed a few songs for the Gaffa Awards. Since then, he has taken over the whole world, and his most recent visit to Denmark was in the summer of 2019, where he played in Tusindårsskoven in Odense with resounding success.
When Ed Sheeran returns to Denmark next year in August, it will be the first time since 2014 that he performs in Copenhagen. The capacity is 38,000 people in Øresundsparken, and it is by all accounts a celebration of larger dimensions when the audience attends the concert, which consists of both seating on the grandstands and standing area around the scene. Øresundsparken will for this event be transformed into a concert venue with audience stands, bars, toilets and access restrictions tailored to the Ed Sheeran concert and its audience.
New ticket type to prevent scams
Ed and his team have a strict stance against anyone using unofficial secondary ticketing sites in order to try and stop fans being exploited when trying to buy tickets for his shows. The shows on this tour will use specially developed mobile digital ticketing technology which have safeguards in place to ensure genuine fans are buying genuine tickets, and to stop unofficial secondary ticketing sites, and unofficial ticket sellers, from being able to resell tickets at inflated prices and rip off fans. In order to make buying legitimate tickets easier on the day, fans are encouraged to sign up for an account at billetlugen.dk in advance of the on sale. All details about tickets are described on Billetlugen's website, and the organizer recommends ticket buyers to read this information before buying tickets.
Map of the area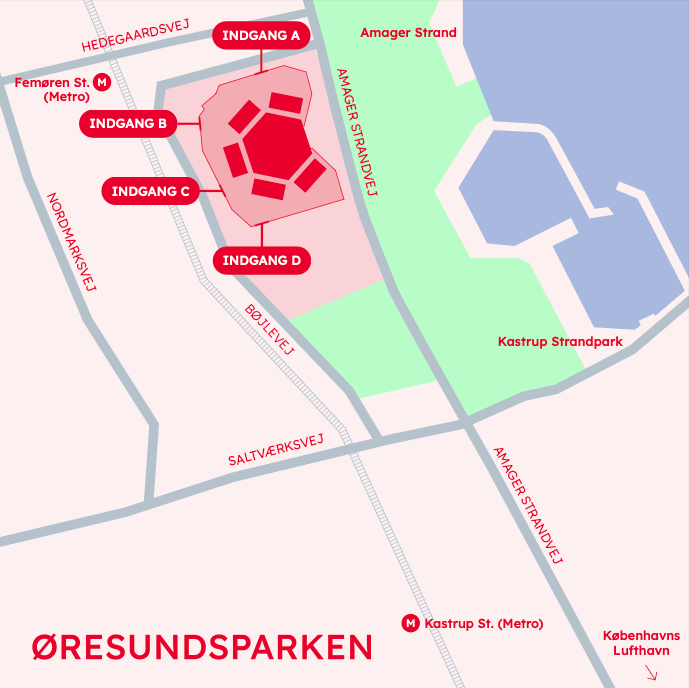 Øresundsparken's location
Read more about the park here: Oresundsparken
Facts about the concerts
📅 Concert date: Wednesday 3rd August 2022 - SOLD OUT
📅 Concert date: Thursday 4th August 2022 - SOLD OUT
📅 Concert date: Friday 5th August 2022 - SOLD OUT
📅 Concert date: Saturday 6th August 2022 - SOLD OUT
Ticket sale
🎟️ Price: 625,- kr. (standing) / 700,- kr. (seated) + fee
Press
All press enquiries, please reach out to: